For more than a decade, UpCity's mission has been—and continues to be—to help businesses find B2B service providers they can trust. The UpCity Recommendability Rating was developed to determine a service provider's credibility and recommendability, giving UpCity the confidence to recommend them to the more than 2 million businesses that visit their site.
Each year, UpCity analyzes and scores more than 70,000 service providers based on their UpCity Recommendability Rating and acknowledges the top national and local providers with an UpCity Excellence Award. The results are in, and we won!
We are proud to announce that the LP Creative Co team has been recognized as one of the top B2B service providers of 2022 in the Kansas City area by UpCity!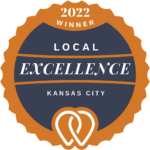 Heidi Sullivan, SVP of Product & Marketing at UpCity, had this to say about LP Creative Co:
"LP Creative Co. has been with the UpCity community for a long time now, and we're proud to honor them with a 2022 Local Excellence Award. Year after year, they consistently demonstrate an uncanny ability to provide top-level results without skimping on personable, caring customer service. Congratulations on the win!"
—Heidi Sullivan, SVP Product & Marketing, UpCity
This recognition has been driven in large part by our 5-star review rating on UpCity. Here are a few of our favorite pieces of feedback we've received from our incredible customers:
"Lauren and her team are excellent! Our company worked with them on a large brand refresh project. They are experts in their craft, kind, patient, and wonderful communicators. I'd recommend them to anyone looking for creative services for their business. We'll continue to work with LP and Co on creative projects moving forward!" – Whitney K., March 2022

"We've used LP Creative for several years, to help with branding, web development, and print materials. Lauren is a wonderful leader who is full of ideas! I'm 100% confident that we'll receive a quality product, on time, when I request something from LP Creative! Definitely my go-to for anything creative!!" – Heidi S., February 2020
Thank you so much to everyone at UpCity for recognizing us as one of the top companies in Kansas City. We love being a part of the UpCity community and this is a tremendous honor!
Learn more about the UpCity Excellence Awards.