Rebranding occurs when a business or organization wants to change or update an existing element of their brand. This change could be as drastic as a new name or logo, or as subtle as a slight shift in messaging to better communicate a more relevant brand promise. Either way, rebranding is extremely important.
A Brand Refresh is a makeover for your business
Think of a brand makeover like you would a personal makeover. A person is perceived differently with a new wardrobe or a more stylish haircut. It's the same with your brand. A refresh maintains a visual connection to your business's identity while making it over to be more modern and vibrant. Most importantly, the Brand Refresh keeps your business aware of today's audiences by designing for them. A refresh could be as simple as revamping the logo while keeping familiar styling that customers associate with the brand.
A brand refresh can help drive more attention and customers your way through:
A brand new design system
Updated and optimized messaging
A fresh color palette made for positive impact
Bold visual layouts
Midwest Children's' & Young Adult Author's Network wanted an updated and cleaner version of their existing logo. Below is an example of their before and after transformation.

Rebranding can be a complete redesign
A redesign is a total transformation of your existing brand. It includes a new identity and brand system using either the same company name or an entirely new one. This new logo identity and a transformed marketing system will catapult your organization forward.
A brand redesign may make sense for your company in the following scenarios:
You want to shake off an old image
Your business is entering a new market or demographic
You are introducing new services
Your visual brand looks tired compared to the competition
Your business has a new target audience
There are many reasons to rebrand:
A merger or take-over
Moving with the times
Entering a new market or demographic
Broadening services
To differentiate a business from other competitors
Below are a couple examples of brand redesign projects we worked on. Midwest Benefit Advisors brand redesign appealed to new audiences and grabbed attention of their broad service scope. Mick Law changed their company name and needed a brand redesign to showcase their fresh new look.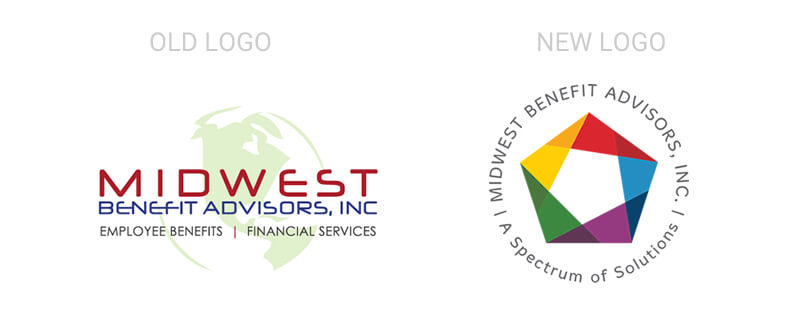 Rebranding improves upon what you've already built
When you embark on a rebrand, you're doing so to bring your marketing, your image and identity up-to-date. You're improving your existing brand in order to reach and appeal to today's audiences. In most scenarios, your company name will remain, as will your domain name. People will still know who you are and will still be able to find you at the same web address. As you move forward in the rebranding process, you'll bring those loyal customers who understand who you are with you.
When is it time rebrand your company?
Before you take the leap of rebranding your company, it is important to think seriously about whether you should. If your target audience is changing with the times (and chances are, it is), it's a smart move to change along with them.
If your business has been around for thirty plus years, you've already seen huge shifts in how you do business and who you reach. Technology impacts marketing. What was acceptable years ago is now behind the times. If your brand looks out-of-date, the assumption is that your business is too.
So what is the 1st step? Simple – talk to us.
If anything here sounds familiar, then we'd love to hear from you. We'll help advise you in the next steps toward refreshing or redesigning your brand.
Tags: Branding, Small Business